Built in 1958 – 59. Original owner-occupants were Rev. Herman L. Counts and his spouse  Olethea W. Counts.  Rev. Counts was a Johnson C. Smith University professor and active civic leader. Wife Olethea taught kindergarten at Oaklawn Center nearby. Their daughter Dorothy Counts had made national headlines when she integrated Harding High the year before the family moved to this house.
******
Herman L. Counts (1.7.1911 – 5.31.1979) came from Roland, S.C. to attend Johnson C. Smith University. He earned a B. A. there, then a Master of Theology, and in 1936 became an ordained Presbyterian minister. In his early career he pastored circuits of small churches first around Cheraw, South Carolina (birthplace of jazz great Dizzy Gillespie), then in Virginia, then in eastern North Carolina. At the same time, he worked toward additional degrees, earning an M.A. from the highly regarded McCormick Theological Seminary at the University of Chicago (1943) and a Ph.D. in Religious Education and Philosophy from University of Pittsburgh (1948).
He joined the JCSU faculty in 1946, the start of a thirty-year career that saw him become one of the University's most respected teachers and leaders.
At his side was Olethea "Lee" Wilson Counts (8.12.1911 – 10.25.2001).  When she and Herman moved into this house, she taught kindergarten at the Oaklawn Center, a community center led by social worker Dr. Coleman Rippy serving low-income Double Oaks and Fairview Homes. Later she worked as "Dormitory Directress" at Johnson C. Smith University. Olethea came from Charleston, South Carolina, a city known for its well-educated African American elite. Her family sent her to boarding school at Coulter Academy in Cheraw, S.C. (founded by her aunt's husband), where she met Herman, then on to Scotia Seminary in Concord, N.C. (Run by the Presbyterian Church, it had been founded as the women's counterpart to JCSU in the era before co-education). She married Herman in 1934 and they had four children:  Herman L., Jr., Wilson E., Howard A. and Dorothy.
When their children were nearly grown in 1959, the Counts family moved from an older cottage close to campus to this new McCrorey Heights dwelling. Building permits indicate that this was one of six houses in the neighborhood that were "spec-built" by Marsh Realty (also known as Marsh-Broadway), one of Charlotte's largest suburban builders in the years after WWII. The Marsh houses were: 1604 Patton, 1607 Patton, 1631 Patton, 1643 Patton, 1601 Van Buren (moved or demolished circa 1968), 643 Fairfield (moved or demolished circa 1968). Marsh also served as contractor for 1601 Patton, 1805 Madison and 1911 Washington.
The Counts family family believed strongly in community involvement. Among the organizations that Mrs. Counts gave her time to was the Priscilla Literary and Art Club of Charlotte, a group made up primarily of women affiliated with Johnson C. Smith University. It had been started in 1909 by ten women including Marie G. Davis, school principal and spouse of the university's first black professor. A 1984 profile called it "the oldest women's club in Charlotte" and listed eight [check] McCrorey Heights residents among its twelve members. They were "not only professor's wives but active in church, civic, education and other worthy causes."
Herman shared similar community engagement. When just a freshman at Johnson C. Smith in 1929, he and classmate Moses Belton (a future McCrorey Heights neighbor) co-founded a Christian Preparatory Leadership Club aimed at "preparing for the greater problems of life after college." During Rev. Counts long tenure at JCSU he remained active as a community minister, driving almost two hours round-trip each Sunday to lead Cedar Grove United Presbyterian in Concord and Bethpage United Presbyterian in Kannapolis for over two decades.
One of his deepest life-long affiliations was with the Kappa Alpha Psi fraternity. Even more than among white college graduates, sororities and fraternities were big thing throughout adult life for African Americans.  Counts and eight others founded Charlotte's Kappa graduate chapter in 1944. According to a history of the organization: "Desegregating public facilities and local schools, improving healthcare, creating national service programs, promoting personal advancement, developing community leaders and providing unparalleled hospitality are just a few of the collective hallmarks of our chapter."
Rev. and Mrs. Counts' four children also picked up the banner of service. Wilson became a career Air Force officer, then upon retirement returned to Charlotte to work with at-risk students in the Community and Schools program of CMS. Herman, Jr., worked as an administrator at JCSU. When he bought a home of his own about 1960, he chose a McCrorey Heights site at 1708 Van Buren, three blocks from his parents.  Howard [____add something about him here______]
Daughter Dorothy "Dot" Counts became best known member of this impressive family. When the Charlotte chapter of the NAACP succeeded in arranging for the first black students to go to white schools (an effort spearheaded in part by attorney Thomas Wyche, a McCrorey Heights resident), fifteen year-old Dorothy was one of four youngsters who agreed to step forward. On September 4, 1957, accompanied by Calvin Thompkins (a McCrorey Heights homeowner and a colleague of Herman's in the JCSU Theology Department), she walked through a mob of cursing, spitting white students and into Harding High School. Photos ran on front pages not just in the U.S. but around the world. The noted African American essayist James Baldwin later recalled that the image of her quiet courage "with history, jeering at her back," helped propel him from exile in Paris to return to the U.S. to take part in the Civil Rights movement. Pressure at Harding proved so overwhelming that Herman and Lee Counts transferred daughter Dorothy to a boarding school out of state. She returned to attend JCSU however, and made her career in childhood education in Charlotte, often visiting her parents' home on Patton Avenue.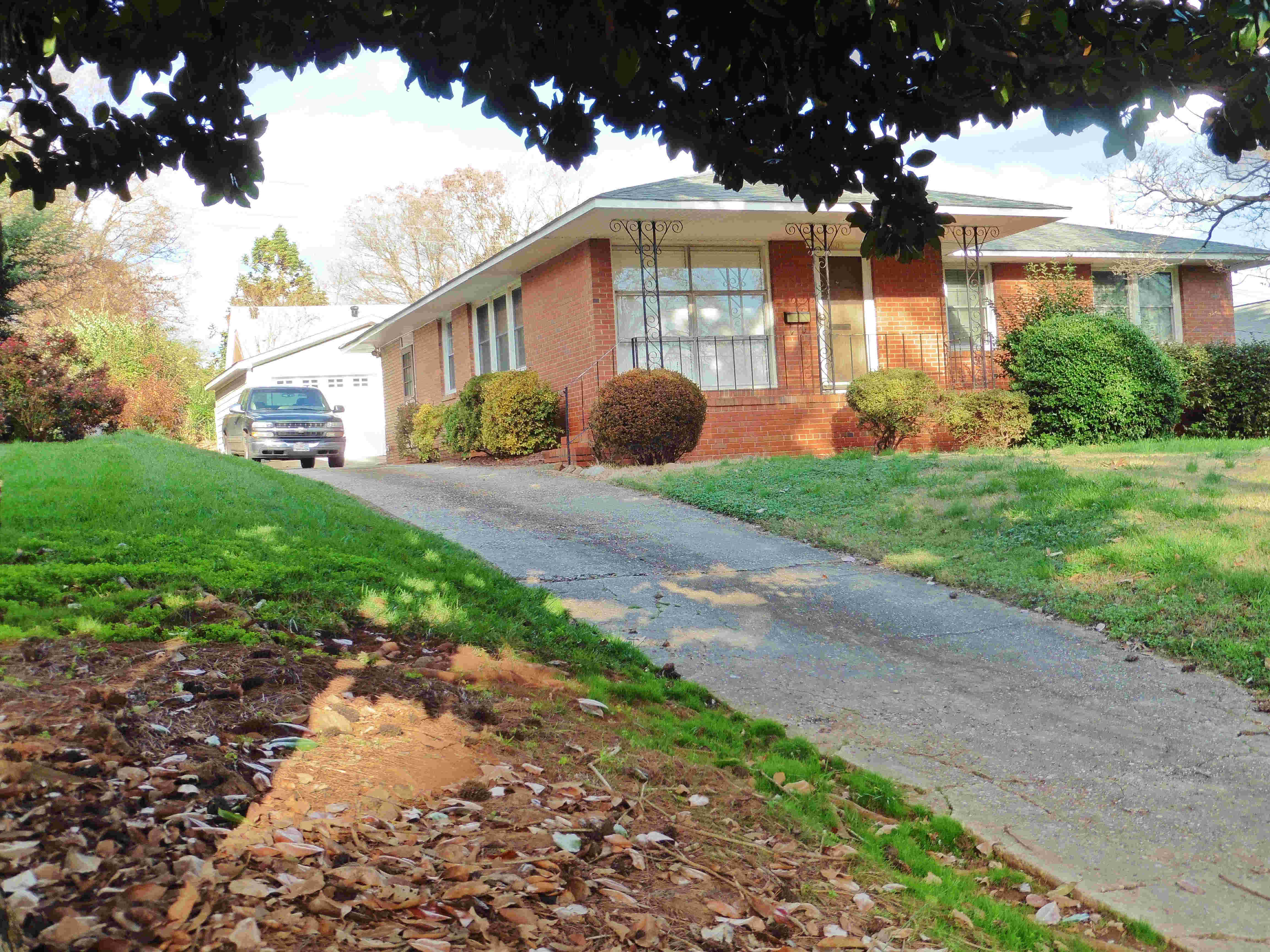 Architecture
Ranch. Red brick, one-story with main hip-roofed block and a projecting hip-roofed front block that holds the living room (with large picture window) and wide front porch. The house has an sizable rear addition and a clapboard-sheathed side garage, both designed to be unobtrusive from the street.
Building permits
Date issued:August 27, 1958
Owner: Marsh Realty
Contractor: Marsh Realty
Other permit info: Build residence
Date issued: September 24, 1962
Owner: Herman Locoste Counts
Contractor: Wells Construction Co.
Estimated cost: $950
Other permit info: 10′ x 20/ aluminum carport behind house
Building permit files, Robinson-Spangler Carolina Room, Charlotte Mecklenburg Library.
First appeared in city directory
1960 – Rev. Herman L. Counts & Olethea W.
He: Prof JCSU. She: kindergarten teacher, Oaklawn Center.
(Note also HL Counts Jr, 1708 Van Buren, inventories officer JCSU)
Dorothy Counts, daughter of Rev. Herman & Olethea, integrated Harding High the year before the family moved to this house.
City directory collection, Robinson-Spangler Carolina Room, Charlotte Mecklenburg Library.
Obituaries
Counts, Olethea, funeral program in the Obituary Project notebooks, African American Genealogy Interest Group collection, Robinson-Spangler Carolina Room, Charlotte Mecklenburg Library.
Counts, Wilson, funeral program in the Obituary Project notebooks, African American Genealogy Interest Group collection, Robinson-Spangler Carolina Room, Charlotte Mecklenburg Library.
Counts, Herman_Rev, funeral program in the collection of Memorial Presbyterian Church, Charlotte.
Resources
Gaillard, Frye, The Dream Long Deferred: The Landmark Struggle for Desegregation in Charlotte, North Carolina, 3rd edition. University of South Carolina Press, 2006).
Leeming, David, James Baldwin: A Biography (Skyhorse Publishing, 2015).
Leslie, LaVonne Jackson, editor, The History of the National Association of Colored Women's Clubs, Inc.: A Legacy of Service (self-published, 2012).
Golden Bull Yearbook, 1936 (Johnson C. Smith University, 1936), p. 63. On-line at:  https://archive.org/stream/goldenbull1936john/goldenbull1936john_djvu.txt
"History of Charlotte Alumni" page on the website The Charlotte Chapter of Kappa Alpha Psi Fraternity. On-line at: cltkappas.com/page.asp?urh=History
Tomlinson, Tommy, "A Picture Speaks," Charlotte Observer, September 2, 2007. On-line at: http://tommytomlinson.com/?page_id=66