Built 1956 – 57 for Julius F. Stroud, Jr., a worker for the U.S. Postal Service and his wife Sarah, a teacher at the Rockwell School in the Derita community just northeast of Charlotte.
*     *     *
Julius Franklin Stroud, Jr., (5.25.1913 – 11.2.1988) came to Charlotte as a child with his family from his native Spartanburg, South Carolina. His father Julius, Sr., had grown up in Chapel Hill and began his worklife at the University-affiliated Carolina Inn, rising from pot washer to cook to waiter. He next worked at resorts in the North Carolina mountains where he met his South Carolina-born wife — and also likely made the connections with influential businessmen that brought him to Charlotte. Julius, Sr., moved to the Queen City to be a waiter at the elite downtown Manufacturers Club and went on to serve as headwaiter at the Hotel Charlotte, Myers Park Country Club and Charlotte Country Club — three of the most prestigious service positions in the city.
Young Julius, Jr., graduated from Second Ward High School then found work with the U.S. Post Office, considered one of the best employers of African Americans in the era before the Civil Rights movement. He served 39 years, retiring as one of the first black supervisors in the Charlotte office.
He married Sarah Elizabeth Irby, a teacher who drove each day out to the Rockwell School off Sugar Creek Road, then a rural area beyond Charlotte's city limits. Sarah Irby Stroud (   – 10.29.2007) had been the valedictorian of Second Ward High's class of 1932. At Johnson C. Smith University where she graduated cum laude in just three years. She and Julius raised two sons and two daughters. The family was active at Memorial Presbyterian Church and Mrs. Stroud was a member for more than 50 years of Delta Sigma Theta sorority.
When Julius Stroud, Jr., died in 1988, the obituary in his funeral program remembered him as a "humanitarian who enjoyed life fully through his family and his many friends. He was known for his joy of hunting, fishing and gardening. His homespun gardening tips were much sought after by friends far and near."
Julius's family was well-regarded in Charlotte, especially his youngest brother Gerson Stroud. At a time when the position of school principal was the highest government job open to African Americans, Gerson Stroud served not only as the inaugural principal of York Road Junior/Senior High, but then went on to head West Charlotte High School in its first year of desegregation.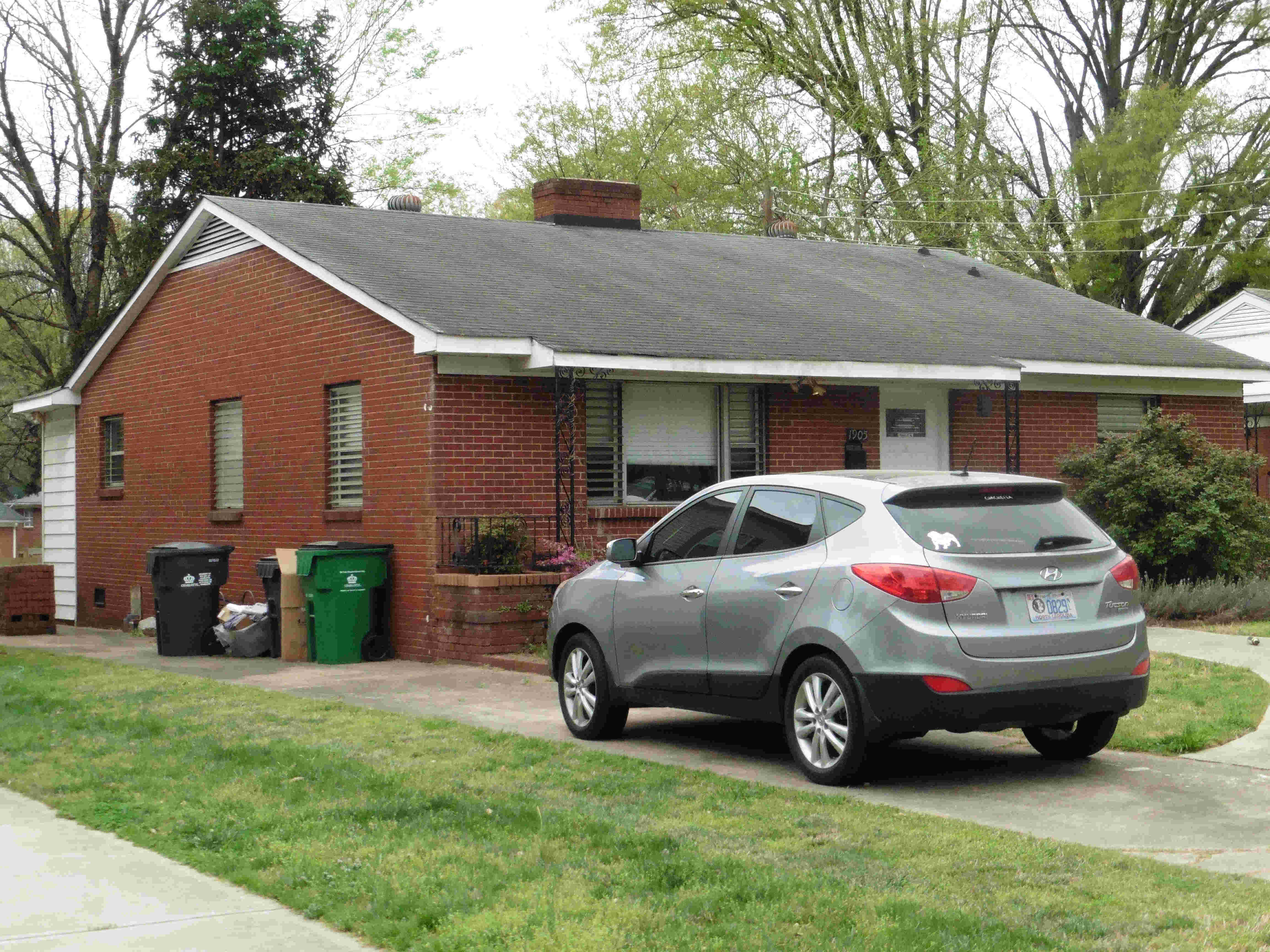 Architecture
Ranch house, 1 story tall in red brick. The low gable roof and large 3-part "picture" window give the house a horizontal emphasis that is characteristic of the Ranch style. Wooden trim along the edge of the roof was sheathed in aluminum in 1968, according to a building permit taken out by the original owner Julius Stroud.
Building permits
Washington-1905-permit
Date issued: April 13. 1956
Owner: Julius Stroud
Contractor: Fred Shu
Estimated cost:
Other permit info: Build residence
Washington-1905-permit-a
Date issued: June 18, 1956
Owner: Fred Shu
Contractor:
Estimated cost:
Other permit info: Wiring, probably as part of original construction of house
Washington-1905-permit-b
Date issued: October 21, 1964
Owner: Julius F. Stroud
Contractor: Solamica of the Carolinas
Estimated cost: $800
Other permit info: Aluminum fascias and siding, remodeling
First appeared in city directory
1957 – Julius F. Stroud, Jr. & Sarah E.
He: Laborer at Post Office.
She: Teacher, Rockwell School.
(also at 1905 Tayloria Stroud, Teacher, Billingsville Sch).
obituary
Resources
Daisy Spears Stroud, obituaries in the Charlotte Observer, July 24, 2014 and the Charlotte Post, July 24, 2014. Both are on-line at: http://www.tuesdayforumcharlotte.org/2014/07/24/daisy-spears-stroud-1921-2014/
Desmarais, Melinda, "Interview with Gerson L. Stroud," June 20, 2001, for UNC Charlotte. On-line at: http://nsv.uncc.edu/node/16131
"Sarah E. Stroud," obituary in the Charlotte Observer, November 4, 2007.  On-line at: http://www.legacy.com/obituaries/charlotte/obituary.aspx?pid=97239831
Stroud, Gerson, funeral program in the Obituary Project notebooks, African American Genealogy Interest Group collection, Robinson-Spangler Carolina Room, Charlotte Mecklenburg Library.
Stroud, J. F., funeral program in the collection of Memorial Presbyterian Church, Charlotte.