Edward High took out the permit to build this house in 1954. He then was a teacher at Charlotte's state-supported black Carver College, also worked as a carrier for the Post Office, and eventually became an Administrative Assistant with the City of Charlotte. He was a civic leader who played a role in integrating Charlotte's most important sports event in the 1960s, the Shrine Bowl, and he became an early black member of several boards including the Airport Commission. Wife Naomi was a lifelong educator, teaching at Sterling School among others.
******
Edward J. High, Sr. (2.28.1920 – 12.6.2010) grew up in Boston, Massachusetts, and made his way south to attend North Carolina Central University in Durham, a nationally regarded African American college. That north-to-south move was rare among African Americans in the era of segregation.
Soon after the U.S. entered World War II following Pearl Harbor, High volunteered to join the military. He became a personnel sergeant major in the 45th Quartermaster Truck Corps, one of the Army's Negro Units. Deployed to China and Burma, High's unit played a key role in constructing supply roads. He served for three years til the close of the war.
Back stateside, High transferred to Columbia University in New York City, likely taking advantage of G.I. Bill benefits which paid veterans' college expenses. He completed a B.S. in Business Education and then a Masters in Teaching specializing in Vocational Education, as well as a "Professional Diploma in Supervision of Commercial and Business Subjects," probably the equivalent of a Masters in Business Administration (M.B.A) today. He brought all that learning back to North Carolina, perhaps because he had married an NC Central classmate in 1946, Naomi Watson High, who was working as schoolteacher in the eastern part of the state. He settled in Charlotte, hoping for a job in the city's booming post-war commercial economy.
"Having prepared himself academically for a rewarding professional career, Ed worked as a postman for nine years. At the time it was the best job available to him," his funeral program stated poignantly. "However, he longed to work as an accountant, the field in which he had majored at Columbia University."
He kept his hand in by teaching at Carver College, the city-run school for African Americans that would eventually become part of today's Central Piedmont Community College. When he and Naomi built this house in McCrorey Heights in 1955, he gave his occupation in the city directory as "Teacher, Carver College," though later directories listed him as a postal carrier.
His newspaper obituary picked up the story: "In 1963, officials of Fund Investments Inc. offered him a job as Assistant Controller. Continually striving for higher aspirations, Ed became the Housing Manager for Fairview Homes [Charlotte's earliest African American public housing project]. He also served as Chief of Administration for the Charlotte Area Fund [part of U.S. President Lyndon Johnson's War on Poverty]…. Before retiring in 1986, Ed served as Administrative Services Officer for the Charlotte Utility Department."
As government began opening to African American participation, Ed High's financial expertise made him sought-after by public boards. He served on the city's Airport Advisory Committee, helping oversee Charlotte Douglas International as it became one of the biggest airports in the South. Governor Jim Hunt appointed him to the State Board of Elections, where he rose to chair. He also headed the North Carolina Board of Community Colleges.
He put his financial acumen to work as a civic volunteer, as well. Mr. High chaired the board and served as Comptroller at First Baptist Church West, a short walk from his home. He was a member of the NAACP and both the Omega Psi Phi and Sigma Pi Phi black fraternities.
Perhaps his most vital civic work came as Mason and as a Shriner, a subset of the Masons. In Charlotte's Unique Lodge #85 of the Prince Hall Masons, the black Masonic organization, High won election as President. In Charlotte's Rameses Temple #51 of the Ancient Egyptian Arabic Order of the Mystic Shrine he served stints as finance officer and also as Potentate.
Rameses Temple was no mere social club but rather an active force for Civil Rights. Its founding Potentate, Caesar R. Blake, won an 11-year national court battle in 1929 that allowed African Americans to use the Shriner name. Edward High continued that tradition in a long struggle to open North Carolina's Shrine Bowl to African American athletes.
The Shrine Bowl drew all-star high school football players from across the state to play an annual game in Charlotte's Memorial Stadium — the city's largest sporting event in the decades before NBA and NFL teams located here. Only white players were allowed. So black North Carolinians organized their own Shrine Youth Bowl starting in the late 1950s, played in Bowman Gray Stadium in Winston Salem. Edward J. High became the Finance Chair of that big project, which raised funds for the Boys Clubs of North Carolina.
But the hope always was to create an integrated event. In 1965 they came close. It looked as if black football standout Jimmie Kirkpatrick — who played at newly integrated white Myers Park High — might be selected for Charlotte's Shrine Bowl. When he was turned down, Civil Rights attorney Julius Chambers filed a high profile lawsuit. It did not succeed.
So Ed High and fellow Rameses Temple members W. P. Holmes and Kelly Alexander (who headed the statewide NAACP) kept up the pressure. They invited both Kirkpatrick and white star Harris Woodside to play in the Winston Salem game — an attention-getting public relations move, even though neither player accepted. Ultimately Alexander, Holmes and High brokered a compromise in which West Charlotte High became the first black member of the NC High School Athletic Association, integrating the body that governed the Bowl. In 1966 Titus Ivory (a McCrorey Heights resident) became the first black student-athlete in Charlotte's Shrine Bowl.
******
Mrs. Naomi Watson High (   – 1994) grew up in Smithfield in eastern North Carolina, attended the elite Palmer Memorial Institute for African American women at Sedalia, N.C., then earned a B.A. in Elementary Education at NC Central, where she met Edward. They married in 1946 when he returned from World War II. She taught in the Johnston County school system around Smithfield during the early years of their marriage, finally joining her spouse in Charlotte in 1951. The couple had two children: Edward II and Anita.
Mrs. High taught alongside her husband at Carver College, then began a long career with the public school system. She worked at Sterling High School in the small town of Pineville, a grades 1-12 facility during segregation, and later at Windsor Park and Nations Ford elementary schools. At retirement she was mathematics teacher at Tuckaseegee Elementary.
Like many McCrorey Heights women, Naomi High was active in church and social organizations. Raised a Baptist, she joined Charlotte's black Catholic Church, Our Lady of Consolation, located on Statesville Avenue about a mile down the hill from McCrorey Heights. She also belonged to the Moles and the Smart Set, two clubs that were favorites among McCrorey Heights women.
Mr. and Mrs. High shared a passion for the card game called bridge, popular nationwide during the 1950s and 1960s. The pair "won many awards in local, state and national bridge tournaments," her funeral program reported. Mr. High chaired the Metrolina Duplicate Bridge Club and served as treasurer, then national chair, of the American Bridge Association, Inc.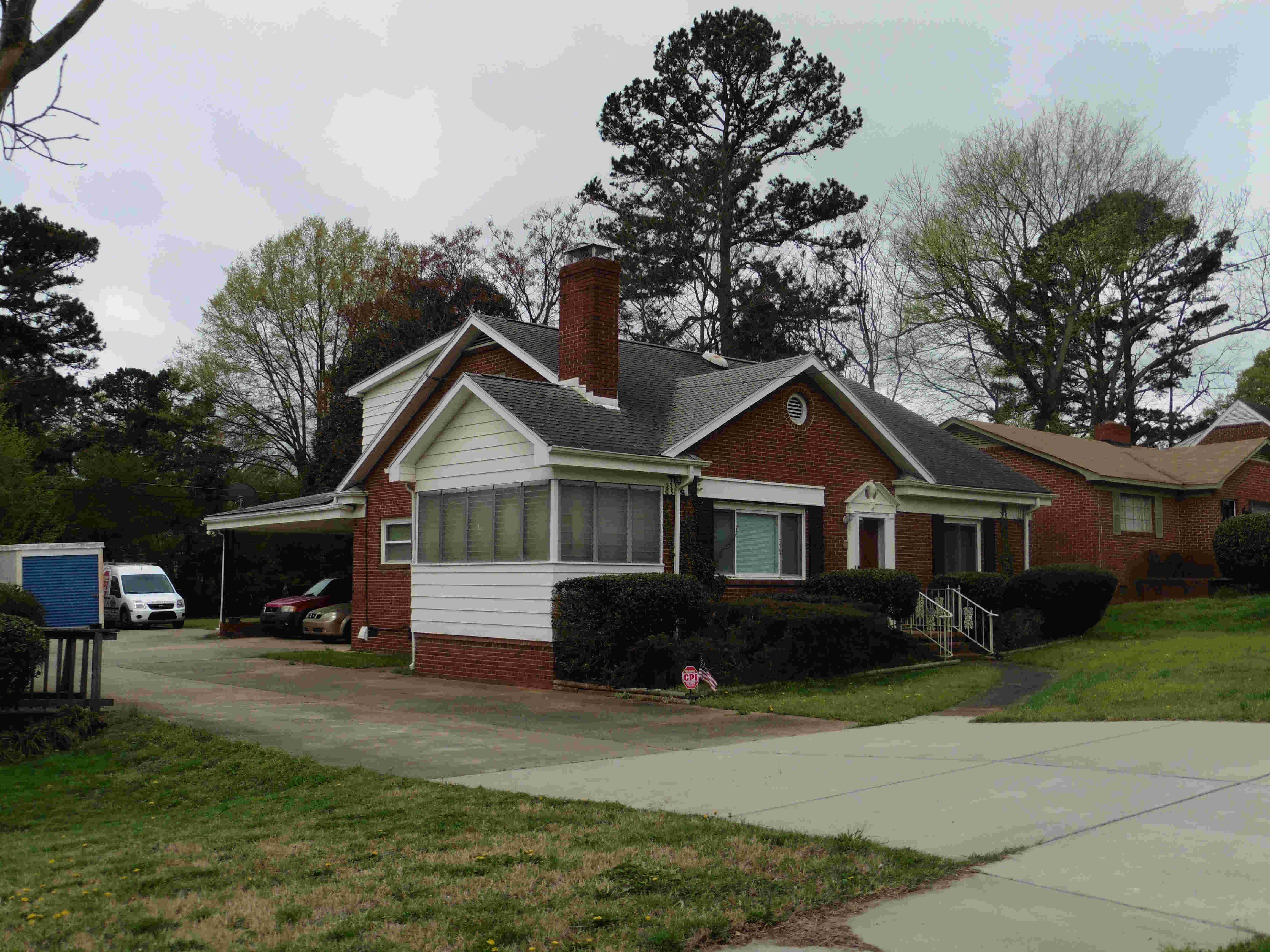 Architecture
Cottage style house, red brick, 1 1/2 stories tall. The Cottage style featured steeper roofs and more compact massing than the long, low Ranch style that was also popular in this era. This house has a main gable roof that is high enough to contain a small second floor. A secondary gable enlivens the front of the house. The trim on this house draws on Colonial architecture, including a broken-pediment-and-urn over the front door, heavy molding in the eaves, and a round vent in the front gable.

The rear dormer window, the enclosed west side porch with horizontal louvered "florida" windows, and also the rear carport all date from a 1961 renovation by the original owner. It seems likely that wooden multi-pane windows, a Colonial characteristic, were removed during that renovation and replaced with simpler, large-pane metal-framed units.
Building permits
Patton-1709-1713-permit
Date issued: March 23, 1954
Owner: Edward J. High
Contractor:  Ervin [Erwin?] Construction Co.
Other permit info: Build residence
Patton-1709-permit
Date issued: May 4, 1961
Owner: Edward. J. High
Contractor: Wells Construction Co.
Estimated cost: $6,350
Other permit info: Add rear carport, 2 rooms upstairs
Building permit files, Robinson-Spangler Carolina Room, Charlotte Mecklenburg Library.
First appeared in city directory
1955 – Ed J High & Naomi W.
He: Teacher Carver College. She: No occupation listed
1961 – Edward J. High & Naomi W.
He: Carrier, Post Office. She: Teacher, Sterling School
1981 – Edward J. High & Naomi W. He: Admin Asst, City of Charlotte
City directory collection, Robinson-Spangler Carolina Room, Charlotte Mecklenburg Library.
Resources
"History of Rameses Temple No. 51, Ancient Egyptian Arabic Order of the Mystic Shrine." On-line at http://www.angelfire.com/nc/ramesestemple51/Default.html.
Leo G. Daugherty III, The Allied Resupply Effort in the China-Burma-India Theater During World War II (McFarland, 2008), p. 128.