Samuel Woodard filed the permit to construct this house in 1954 and moved in about 1956. He worked as a Boy Scout executive and managed the large Brookhill Village low-income apartment complex, developing skills that made him sought-after community leader. His wife Elsie Woodard taught English at Johnson C. Smith University and also volunteered extensively in the community.
*     *     *
Raised in eastern North Carolina, Samuel P. Woodard (4.22.1909 – 8.30.1991) was born in Smithfield and earned an undergraduate degree from Fayetteville State University.
When he moved into this house, Woodard managed the big Brookhill Village apartment complex on South Tryon Street. The C.D. Spangler construction firm developed Brookhill in 1951 under a Federal subsidy program intended to create good, inexpensive housing for veterans returning from World War II and the Korean conflict. It was one of half a dozen similar one-story courtyard developments scattered around the city including Double Oaks for African Americans and Plaza Terrace for whites.
Woodward worked many years with the Boy Scouts as Field Scout Executive, the top regional official in charge of recruiting and assisting Negro scout troups. He also served as a Building Inspector for Mecklenburg County.
His experience working with people in the Scouts, and with properties as an apartment manager and later as a building inspector, stood him in good stead as he stepped into community leadership roles. He chaired the Board of Management at the McCrorey YMCA. At Memorial Presbyterian Church he chaired the Finance Committee.
When the Civil Rights movement opened up government boards to African Americans, Mr. Woodard served on the board of Charlotte's Community Development agency, an important conduit for Federal grant funds for infrastructure and neighborhood improvement. In the 1970s Community Development Block Grants — with strict requirements for citizen input — replaced the earlier urban renewal programs that had wrought devastation on black neighborhoods. He also served on the Charlotte Mecklenburg Historic Landmarks Commission in the 1980s, becoming its vice chair.
Woodard was an Omega man, initiated into the Omega Psi Phi fraternity in 1950 and active at the local regional and national level throughout the rest of his life. The local chapter named him its Man of the Year in 1958. He belonged to the Swanks, as well, the Charlotte-based social club that counted most of the city's Civil Rights leaders among its members, including McCrorey Heights neighbors Ray Booton and Thomas Wyche.
*     *     *
Samuel Woodard married Elsie Electra Allen of Lumberton, North Carolina, in 1933 — a union that endured nearly fifty-eight years. Elsie showed great promise as a youngster, inspiring her parents and the community to send her to Redstone Academy in Lumberton, one of the network of small private boarding schools throughout the South run by black Presbyterians to provide a full high school education to the best and brightest African American youth — an alternative to the underfunded segregated public schools. She went on to graduate from Bennett College, the highly respected women's college in Greensboro, N.C., and eventually earned a Masters from the University of Michigan.
Elsie Woodard embarked on a career as a teacher, starting at Hilly Branch, a rural public school in her native Robeson County. She moved to the college level at Barber Scotia, the Presbyterian college for African American women in Concord, N.C. In 1936 she and Samuel came to Charlotte when she joined Johnson C. Smith University — at the top of the Presbyterian educational system in the Southeastern U.S. She taught in the English Department for thirty years until her retirement in 1976.
Like her husband, Mrs. Woodard gave freely of her time in the community. At Memorial Presbyterian she sang in the Chancel Choir, used her writing skills in creating narrative productions put on by the congregation, and served on the board of Wonderland Childcare which was based at the church. She joined Alpha Kappa Alpha sorority in 1952, took a turned leading the Charlotte chapter as its Basileus, and was named Soror of the Year. She enjoyed social clubs, belonging to Les Savants with many of her McCrorey Heights neighbors and organizing the Orbettes Bridge Club.
The couple raised son Sterling in this house on Madison Avenue.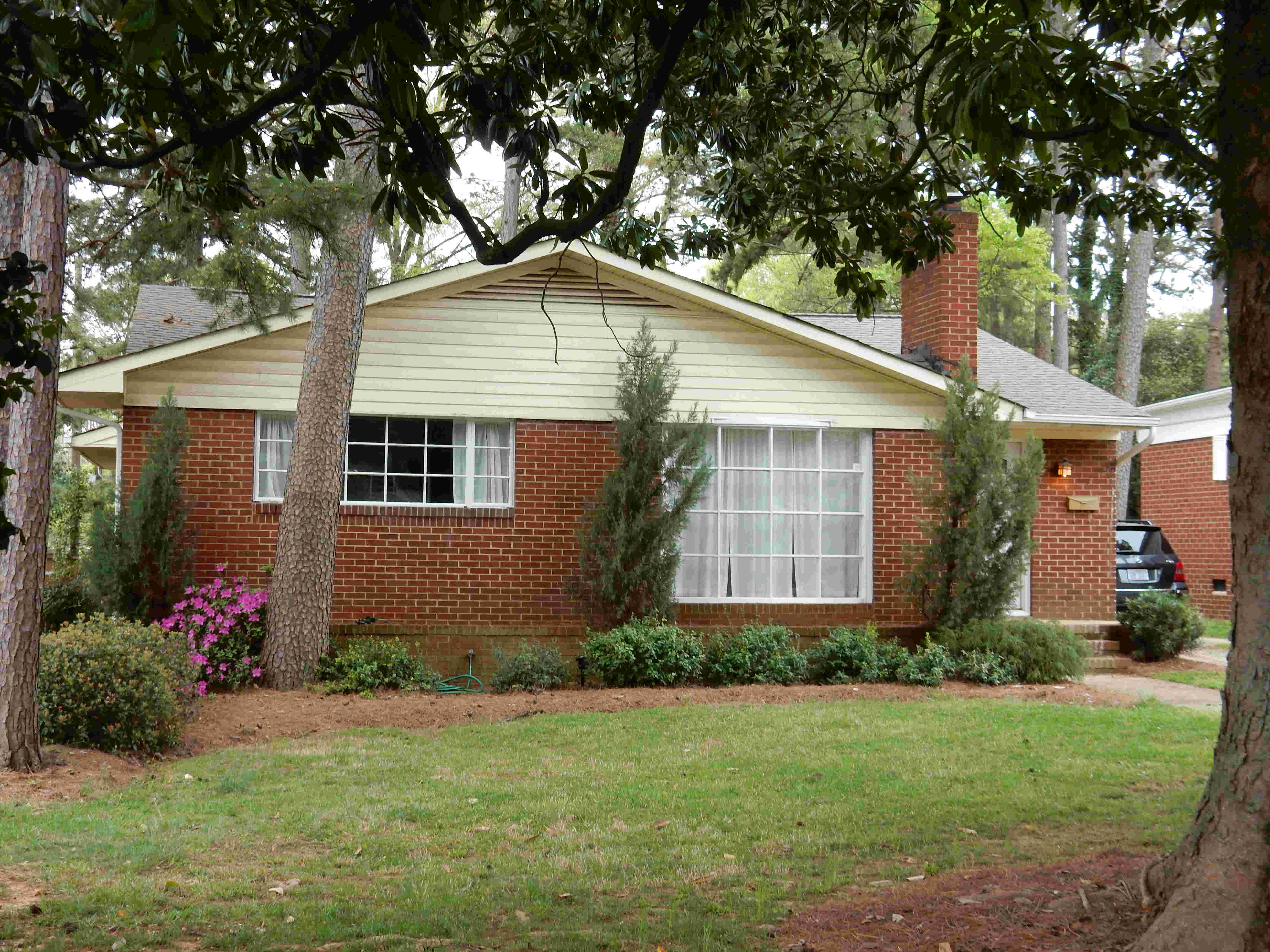 Architecture
Ranch style house, one-story in red-brick. There is a main gable roof and a smaller front-facing gable. There is a small front stoop, with no roof, rather than an elaborate porch. Note the two large "picture" windows — a Ranch style hallmark — one in the front of the house, one on the west side. The original owner took out permits for rear additions, not visible from the street, in 1960 and 1971.
Building permits
Madison 1709 permit b
Date issued: November 14, 1960
Owner: Samuel P. Woodard
Contractor: Wells Construction Company
Estimated cost: $2,800
Other permit info: Add a 20 x 20 den to present house.
Madison 1709 permit a
Date issued: November 30, 1971
Owner: Samuel Woodard
Contractor: Evans Bros. Const. Co.
Estimated cost: $10,300
Other permit info: remodeling roof front & back, adding bedroom, remodeling house
Madison-1709-permit-c
Date issued: September 14, 1954
Owner: S. P. Woodard
Contractor: Bob Allen Agency
Estimated cost:
Other permit info: Build residence
First appeared in city directory

1955 — "under construction" 1956 — Samuel P. Woodard & Elsie P.
He: Manager, Brookhill Village Apts at 2506 S. Tryon.
She: Instructor, JCSU.
1982 city directory – still listed, retired.
obituary
Resources
"As Southend Boom Spreads, One Neighborhood is Left Behind," Charlotte Observer, March 4, 2016. On-line at: http://www.charlotteobserver.com/news/business/biz-columns-blogs/development/article64070492.html
"Robeson Remembers: Bethany Church," on The Robesonian website.  On-line at: http://www.robesonian.com/archive/75191/view-full_story-1658900-article-robeson_remembers_bethany_church
Woodard, Elsie, funeral program in the History Room, First United Presbyterian Church, Charlotte.
Woodard, Samuel, funeral program in the History Room, First United Presbyterian Church, Charlotte.