Originally built in 1960, this house was displaced by construction of Brookshire Freeway and moved to this address in 1967 by JCSU Professor William E. Bluford, Sr., and his wife Ocala, a public school teacher. In addition to a long career teaching history at Smith, Prof. Bluford was among the early African Americans employed as visiting professor at Winthrop University as it desegregated. In 1968 he ran unsuccessfully for Mecklenburg County Commission, the first black Republican to do so in the twentieth century. As the Civil Rights movement opened opportunities for public service, he won appointment to several boards including UNC Charlotte's Board of Trustees, and he became the first African American on the Charlotte Mecklenburg Historic Landmarks Commission.
*     *     *
This house was originally constructed about 1960 at 643 Fairfield Avenue just off Van Buren Avenue at the southern edge of McCrorey Heights. In 1967 the government took that land to construct the Northwest Expressway (now Brookshire Freeway). William E. Bluford, Sr., a Johnson C. Smith University history professor, arranged with Crouch Brothers housemovers to transport the dwelling to a new foundation at 1600 Madison Avenue, where Prof. Bluford and his family lived into the 2000s.
William E. Bluford, Sr. (died 2000), was born and raised in Glouster, Virginia, and earned a Bachelors Degree at Virginia Union University, the state's top public university for African Americans. A quiet, persistent man, he did additional study in history at Harvard University and New York University, attaining a Masters from University of Michigan.
An early teaching job took him to Avery Institute, the African American academy in Charleston, South Carolina. He became the school's principal. And he met the love of his life, a teacher named Ocala Godfrey. The pair were wed October 26, 1936.
During World War II William Bluford joined the staff of Pittsburgh Metallurgical Company, a major manufacturer of the alloys that went into stainless steel and electrical equipment, which opened a new factory in Charleston in 1941. Bluford quickly rose to become a personnel director, likely in charge of hiring the African American laborers who did the hot, heavy work of feeding the high-temperature furnaces where alloy was produced. Bluford's office job, with responsibility for hiring and firing at a major corporation, was a rare and impressive achievement for an African American in the segregated South.
After the War in 1945 he came to Johnson C. Smith University — and never left. For thirty years he taught history and political science, as well as serving as Director of Community Services.
Prof. Bluford worked tirelessly to build bridges with the wider Charlotte region. When city-funded Carver College (eventually absorbed into Central Piedmont Community College) sprang up offer what would today be called community college classes for African Americans, Bluford taught in the evenings after his JCSU work was done. He also became one of the early African American visiting professors at previously all-white Winthrop College in Rock Hill as it desegregated. As early as 1964 JCSU honored him with its Hardy Liston Achievement Award for Community Relations. But he was just getting started.
Bluford was a life-long member of the Republican Party. Among African Americans, allegiance to the Republican Party dated back to the first Republican president, Abraham Lincoln, the Great Emancipator. While many African Americans joined the Democratic Party as it took increasingly liberal stands on Civil Rights during the 1930s – 1960s, some old-line leaders held fast to the GOP. They liked the idea of a genuinely two-party South and hoped to use their influence to ensure that white politicians listened to black voices.
In 1968 Professor William Bluford stepped forward to run for Mecklenburg County Commission — "the first Negro Republican in modern political history to seek election as a commissioner," according to an Associated Press newspaper story. He did not win the election but his courage helped open doors. In 1974 his McCrorey Heights neighbor Rowe "Jack" Motley at 1726 Madison Avenue would succeed in becoming Mecklenburg County's first African American county commissioner, running on the Democratic ticket.
Political visibility plus Bluford's longtime labor as JCSU's community outreach person put him in line for appointments to community boards as the Civil Rights movement began to open opportunities for civic service. In the early 1970s North Carolina Governor William Holshouser named Professor Bluford to the UNC Charlotte Board of Trustees. He served on the committee that helped plan Charlotte's Civic Plaza (today known as the Government Center) and in the 1980s he became the first African American on the Charlotte Mecklenburg Historic Properties (now Historic Landmarks) Commission. He also took pleasure in church work, a Sunday School teacher and Ruling Elder at Memorial Presbyterian Church.
Mrs. Ocala Godfrey Bluford (1911 – 2002) was just as passionate about education and service as her professor husband. Her parents moved from Summerville, South Carolina, where she was born to Charleston so that she could enroll in private Avery Institute. In those years, public schools offered scant opportunities for African Americans who wanted high school classes. She went on to earn an undergraduate degree at Claflin College in Orangeburg, S.C., then did advanced study at University of Michigan and New York University, attaining an MA in English.
She began her education career as teacher-principal at a small school outside Charleston, then returned to Avery Institute as a teacher. When Prof. Bluford moved the family to Charlotte in 1945, she joined the Charlotte Mecklenburg Schools where she taught until retirement. While her husband focused on civic service, she devoted her energies to the church. "[S]he was a missionary for her community," said the obituary in her funeral program. "Mama Bluford's call from God was to sing on her church choir. She practiced every Wednesday to be prepared to sing each Sunday…. She rarely missed going to Church." Mr. and Mrs. Bluford raised a son, William E. Bluford, Jr.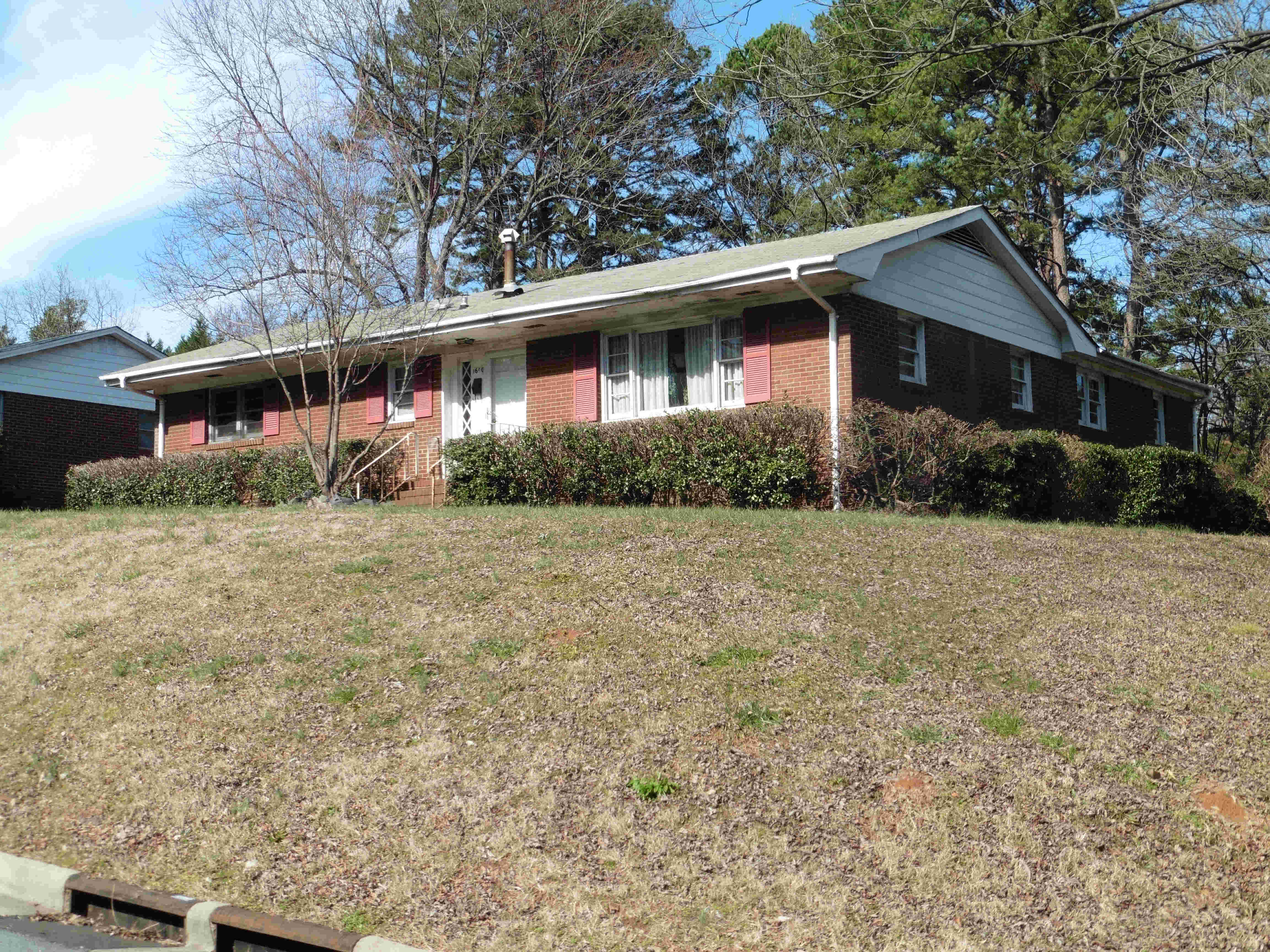 Architecture
Ranch style house, one-story in red-brick under a gable roof. The Ranch style strove for simplicity and horizontality. Note the small front stoop, with no roof, rather than an elaborate porch. See also the wide three-part "picture" window in the living room, a Ranch style hallmark.
Building permits
House was moved from the corner of Fairfield Avenue and Van Buren Avenue in 1967 when the Brookshire Boulevard expressway was built. Rear carport and storage space were added at that time.
Madison-1600-permit-a
Date issued: January 31, 1967
Owner: Bluford
Contractor: Evans Brothers Construction Co.
Estimated cost: $6,668
Other permit info: Res. foundation and addition
Madison-1600-permit-b
Date issued: February 2, 1967
Owner: William E. Bluford
Contractor: Crouch Brothers, Inc.
Estimated cost:
Other permit info: Res. Moving from 643 Fairfield Av.
Obituaries
William E. and Ocala G. Bluford
Bluford, Ocala, funeral program in the collection of Memorial Presbyterian Church, Charlotte.
Bluford, William, funeral program in the collection of Memorial Presbyterian Church, Charlotte.
First appeared in city directory
1968 – William E. Bluford & Ocala G
He: Teacher, JCSU
She: Teacher, York Road High
1981 city directory listed them still there; he was retired.
Resources
"Board Playing Neutral Game," Statesville Record and Landmark, May 2, 1968. On-line at: www.newspapers.com/image/3886914/
"Holshouser Re-Appoints Two Trustees," High Point Enterprise, October 19, 1975. On-line at: www.newspapers.com/image/43128331/
"Johnson C. Smith U. Honors Eight Professors," Pittsburgh Courier, March 21, 1964.  On-line at: www.newspapers.com/image/38650530/
"Pittsburgh Metallurgical Company," corporate profile in the Lehman Brothers Collection, Contemporary Business Archives, Baker Library, Harvard University.  On-line at: www.library.hbs.edu/hc/lehman/company.html?company=pittsburgh_metallurgical_company_incorporated